Welcome to my selection of the best hearing aids for 2023. As an audiologist, I offer these recommendations based on my clinical experience and the personalized needs of my patients. It's crucial to remember that each person's hearing loss and hearing aid preferences can vary significantly. This article primarily focuses on receiver-in-canal (RIC) style hearing aids, the most popular type in the market currently.
Ranking of Traditional Hearing Aid Manufacturers in 2023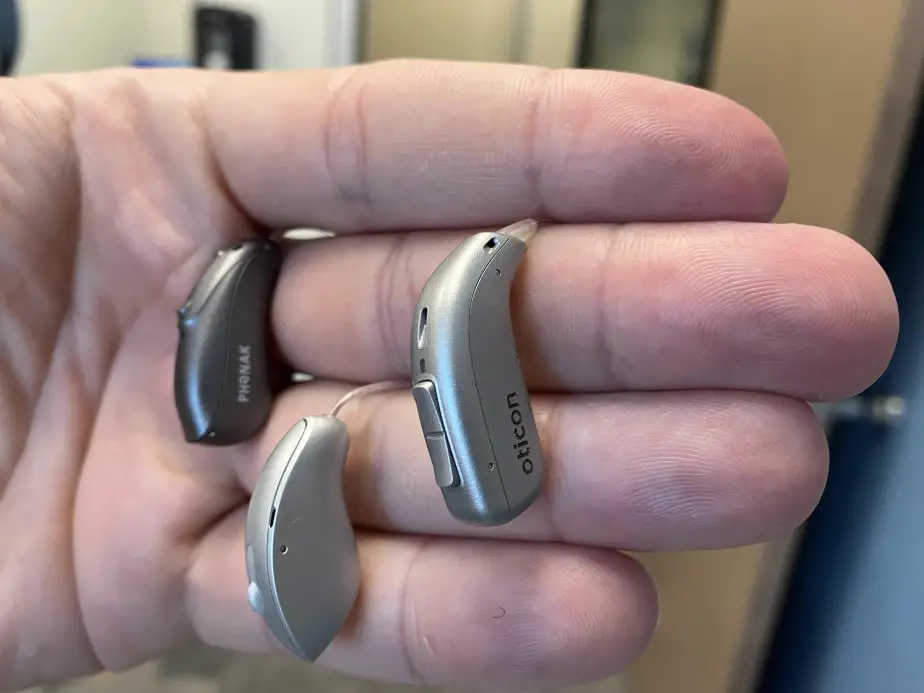 Here is my assessment of the leading traditional hearing aid manufacturers for 2023:
Starkey
Oticon
Phonak
Resound
Signia
Widex
Please note that all these major hearing aid manufacturers produce excellent products, and differences between them are often minor. The effectiveness of a hearing aid greatly depends on the professional fitting it, especially if they have extensive experience with that particular brand and understand the product inside and out.
Over the past decade, I have worked with all major hearing aid companies, leading to these recommendations. The links in this post point to Ziphearing, a company with a nationwide (USA) network of providers fitting hearing aids. If you have a trusted audiologist, I encourage you to consult with them. However, if you're looking for a provider, I recommend Ziphearing, especially if I'm not familiar with audiologists in your local area.
Starkey: My New Preferred Choice
Starkey Genesis AI: Delivering Superior User Experience
Starkey hearing aids have consistently received accolades for its in-the-ear products, with the Genesis AI line being no exception. Although their Receiver-in-Canal (RIC) line might not be everyone's top pick, the in-the-ear Genesis AI products stand out due to their intuitive design and innovative features. I must say the RIC product with the new line is above and beyond an improvement over the previous Starkey Evolv AI hearing aids and currently is my recommended product.
Genesis AI hearing aids are especially beneficial for users prioritizing ease-of-use and a user-friendly design. Notably, Starkey is the best major hearing aid manufacturer offering rechargeable custom products. Their excellent wax traps are another standout feature. All these attributes make Genesis AI a highly user-friendly choice, particularly appealing to seniors and those leading less active lifestyles.
Key features of Genesis AI line include:
Fall Detection: Using built-in motion sensors, the device can send a notification to a designated contact if a fall is detected.
My Starkey App: Rated number one in my rankings. Designed to pair with Genesis AI, this app includes a wellness score tracking physical activity and social engagement levels.
Edge Mode+ Technology: Helps to reduce background noise and emphasize speech.
Superior waterproofing.
Most User Friendly of All Hearing Aids On The Market.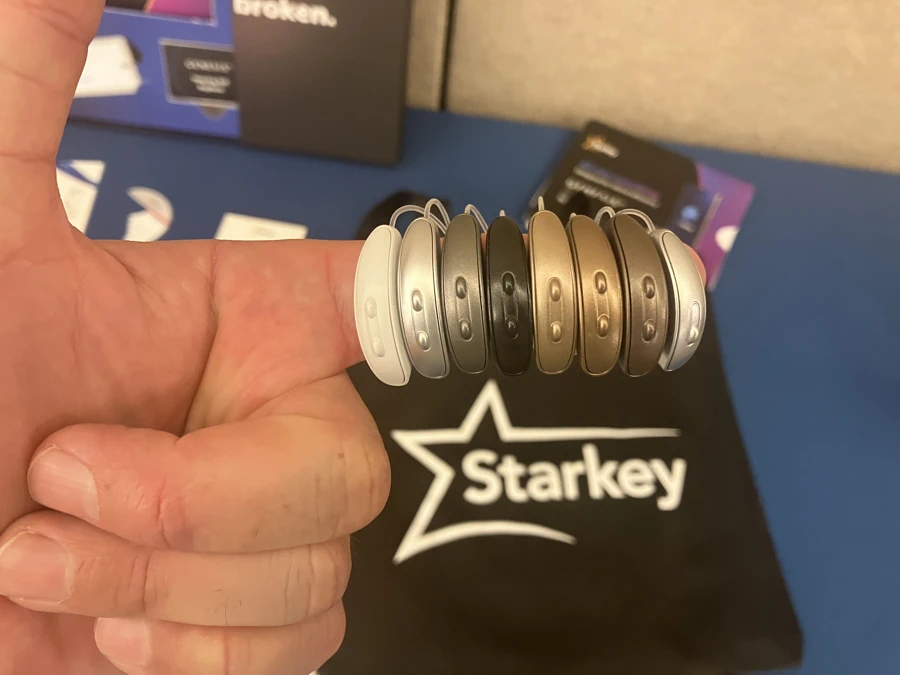 Genesis AI hearing aids are Bluetooth-compatible with both Apple and Android devices and offer two-way audio with Apple devices. They come in six different form factors, including a smaller 312 disposable battery version, a regular size 312 disposable battery version, and a rechargeable version. All models have an Absolute Power receiver option.
In summary, the in-the-ear Genesis AI products from Starkey, particularly the rechargeable options, are highly recommended. They are designed to offer a superior user experience, combining easy-to-use designs with advanced features.
Oticon Real: My Second Top Pick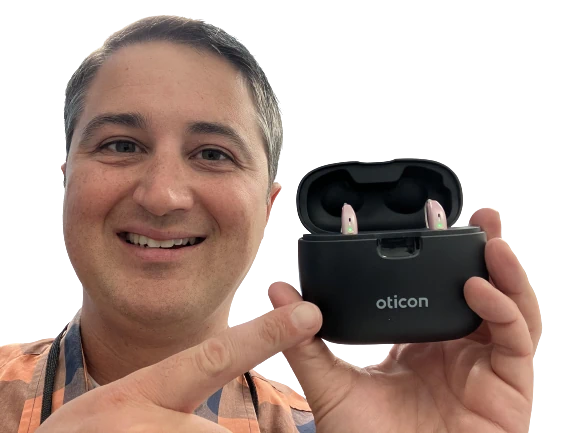 On February 23, 2023, Oticon introduced the "Real" line of hearing aids to the market.
Read my full review of Oticon Real here.
Oticon Real hearing aids offer an array of innovative features and enhancements, making them a top choice in the hearing aid market. The Polaris R chip platform and RealSound technology ensure a high-quality listening experience. Additionally, the SuddenSound and Wind & Handling Stabilizers work to minimize disruptive sounds. Oticon Real also boasts a variety of performance levels and color options, coupled with an IP68 rating for enhanced durability. Furthermore, the tinnitus SoundSupport program provides relief for tinnitus sufferers.
Compared to Oticon More, Oticon Real shines with its SuddenSound and Wind & Handling Stabilizers, which adapt amplification to sudden sounds and reduce wind and handling noise. Additionally, Oticon Real offers a broader range of performance levels and color options and a higher IP rating for better dust and water protection. While both hearing aids leverage the same Polaris R chip platform and RealSound technology, the unique features of Oticon Real make it a strong contender in the hearing aid market.
Key Benefits of Oticon Real over Oticon More
Adaptive Amplification with SuddenSound Stabilizer: Oticon Real automatically adjusts to sudden sounds, reducing discomfort and enhancing speech clarity.
Wind & Handling Stabilizer: This feature minimizes disruptive wind and handling noise, thus improving overall sound quality.
Improved Performance Levels and Color Options: Oticon Real is available in three performance levels and various color options, catering to user needs and style preferences.
IP68 Rating: With an IP68 rating, Oticon Real is resistant to dust and water, making it suitable for various environments and weather conditions.
Tinnitus SoundSupport Program: Oticon Real's tinnitus SoundSupport program offers personalized sound therapy to alleviate tinnitus effects and enhance overall hearing health.
In general, Oticon Real hearing aids provide significant enhancements over previous models, delivering a high-quality listening experience. With a variety of performance levels, color options, and additional features like the tinnitus SoundSupport program, Oticon Real is an excellent option for those seeking a top-tier hearing aid.
Check my comprehensive view of Oticon here. Since the release of the More model line, which I regard as a marked improvement over the Opn, Oticon has risen in my ranking. With the release of the Real line, they have ascended to the #2 spot.
Oticon sets itself apart with its exceptional noise-processing capabilities. Most other hearing aid manufacturers assume that you will be looking at the source of the sound you want to hear. Oticon adopts a different strategy. So, if you've had trouble hearing in background noise and other brands haven't worked for you, consider giving Oticon a try.
If you're interested in being fitted with Oticon hearing aids by a provider, check out the current pricing.
Phonak: A Long-Time Favorite Brand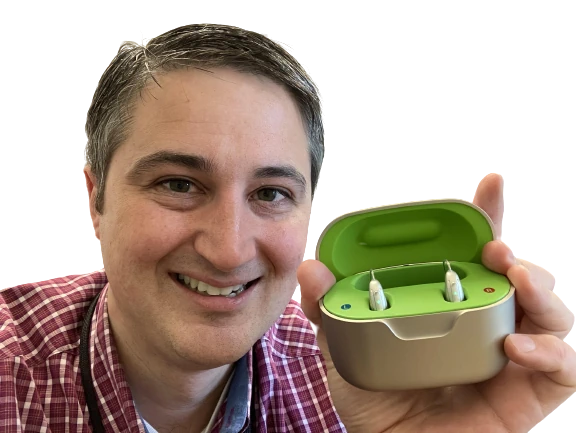 Phonak has consistently been my personal favorite brand of hearing aids since my grad school days. I've familiarized myself thoroughly with their products, and I believe that 90% of the time, Phonak is the right choice for my patients. Until recently, it was my top-rated product. Phonak hearing aids perform exceptionally well in automatic autopilot mode, eliminating the need for manual programs. They offer excellent feedback control and are, without a doubt, the best Bluetooth-compatible hearing aids on the market, connecting seamlessly to all types of phones — be it flip phones, Androids, or iPhones.
I moderate a Phonak Facebook support group, and the majority of posts reflect positivity toward the products. I give Phonak my highest recommendation. The device I often suggest is the top-tier product, the Phonak Audeo L90-R with custom earmolds. However, any product line from Phonak is a great choice.
Benefits of Phonak Lumity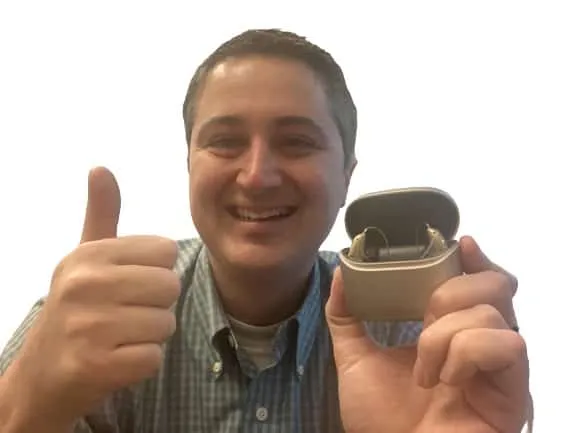 Phonak Lumity hearing aids build upon the success of the popular Audeo Paradise hearing aids and provide a host of benefits:
Universal Bluetooth Compatibility: They can connect with virtually any Bluetooth device using Bluetooth Classic.
Multiple Pairing: They can pair with up to eight different Bluetooth devices simultaneously, with two active at once.
AutoSense OS 5.0: This feature allows hearing care professionals to customize different program settings based on the acoustic environment. The hearing aid then automatically switches between these settings.
Tap Control Feature: Users can pause/start streaming, answer/hang up phone calls, and activate the voice assistant with a simple tap.
Wireless Accessories: Phonak offers excellent wireless accessories, including a Partner Microphone, TV connector, and Roger microphones.
Custom C-Shell Ear Molds: These are optimized with acoustic venting.
ActiveVent Receiver: This adjusts venting for improved performance in background noise and while streaming music.
Waterproof: Available in rechargeable form factors with a telecoil, the Phonak Lumity is also waterproof (Life version). It is the most waterproof hearing aid globally, thanks to its perylene coating, silicone seals, Gore-Tex microphone, and inductive charging. It can be used for swimming, trail running, and showering without compromising its performance.
You can check the prices for Phonak hearing aids at ZipHearing and at Hear-Better.
See an in-depth comparison of my top 3 recommendations between Phonak Oticon and Starkey products.
Recommendation for Specific Populations
For those seeking more specific recommendations tailored to their unique needs, lifestyle, or specific conditions, I have compiled a collection of my other articles below.
| Article Title | URL |
| --- | --- |
| Discover the Best Waterproof Hearing Aids for Active Lifestyles | Read more |
| The Best Hearing Aid for Clarity, Not Volume | Read more |
| The Most Comfortable Hearing Aid to Wear | Read more |
| The Best Hearing Aids for Travelers: Meeting the Unique Needs of Explorers | Read more |
| Finding the Best Hearing Aid for Narrow Ear Canals | Read more |
| Best Hearing Aids for Dementia | Read more |
| Hear the Game: 3 Recommended Hearing Aids for Athletes | Read more |
| Best Hearing Aids for Seniors | Read more |
ReSound Hearing Aids: A Superior Recommendation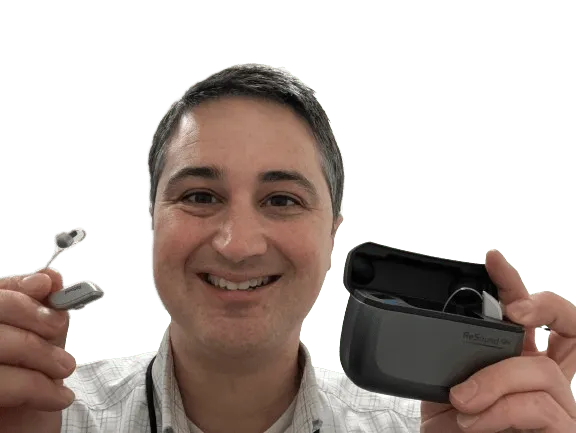 ReSound OMNIA: A Novel and Enhanced Hearing Aid
ReSound OMNIA is a new and improved hearing aid from ReSound, boasting unique features such as the M&RIE receiver for superior sound localization. Available in three technology levels, OMNIA offers Bluetooth compatibility with Apple and Android devices, a rechargeable battery with 24 hours of use, and an improved signal-to-noise ratio. Compatible with the highly-rated (4.4 stars) ReSound Smart 3D app, OMNIA also includes the Check My Fit feature for proper insertion. It's suitable for individuals with mild to profound hearing loss levels and is recommended at the highest technology level for optimal performance.
Benefits of ReSound OMNIA
ReSound OMNIA hearing aid is ReSound's best offering yet, with a 150% improvement in speech understanding and background noise reduction compared to the previous generation ReSound ONE technology.
M&RIE Receiver: Preserves the natural pinna effect for more natural sound and is preferred over a standard receiver using the pinna restoration algorithm.
Device Compatibility: Pairs easily with iPhone or Android phones and is compatible with the ReSound Smart 3D app.
Form Factors: Available in rechargeable and non-rechargeable form factors with access to different wireless accessories like the ReSound Multi Mic and TV streamer.
Telecoil Access: Available inside the hearing aid itself or as an accessory.
ReSound has a great app and is the only company offering the M&RIE receiver, much appreciated by many ReSound fans. Read my full review here.
Signia Hearing Aids
Seven years ago, while working at a different VA hospital, I often used Signia (formerly known as Siemens Hearing Aids) and appreciated their products and technology. From my perspective, their products are akin to Phonak. However, I give Phonak an edge as their Bluetooth connections to cell phones are superior—Phonak works with all phones, while Signia directly connects only to iPhones or high-level Android phones. I hold no animosity toward Signia; it's just not my favorite.
In my 2021 recommendations, Signia was in 5th place, but they've now moved up to 4th. Their current product line, the AX, boasts dual chips, offering a compelling reason to try these hearing aids out. It allows for split processing, meaning one computer chip/processor focuses on what's directly in front of you, while the other chip focuses on the surroundings.
Benefits of Signia AX
Signia AX is the fourth-best hearing aid on the market in 2023. Its unique features include:
Dual Processors: Unique in its class.
Own Voice Processing 2.0: Reduces the amplification of the user's own voice while maintaining the amplification of other sounds.
Auto EchoShield Feature: Reduces the amplification of reverberation.
Form Factors: Comes in rechargeable and non-rechargeable form factors.
Rechargeable Version: Uses galvanic charging for small size and long battery life (up to 40 hours).
Device Compatibility: Bluetooth-compatible with both Android and Apple devices.
Accessories: Includes a smartphone app and accessories like a companion microphone and TV streamer.
Styletto AX: A fashion device in the Augmented Xperience lineup with all the features of other Signia AX hearing aids.
Signia AX tries to give you the best of both worlds, combining the best surrounding signal processing, known from Oticon, and Phonak's directionality.
Widex: A Brand Worth Noting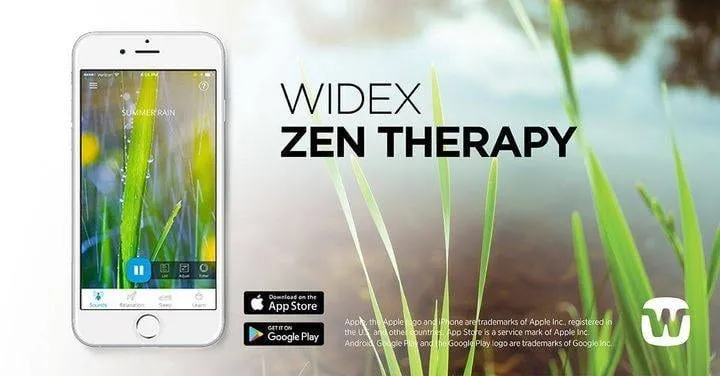 While I'm less acquainted with Widex due to my role as a government audiologist (the government currently doesn't have a contract with Widex), I have used their products in the past. However, I've often opted for other manufacturers over Widex due to my relative unfamiliarity with their product line.
Benefits of the Widex Moment
Despite my limited exposure to Widex, the Widex Moment does offer several advantages:
Fast Processing: Its zero-delay sound processing strategy (PureSound) helps reduce artifacts from the Comb-Filter effect.
SoundSense Learn: This machine learning-based feature in the Widex smartphone app learns hearing preferences and allows for customizations to programming.
Tinnitus Relief: Unique Zen fractal tones distract from the perception of tinnitus.
Form Factor: Comes in one form factor.
However, many tinnitus patients have found relief using the feature known as Zen to help alleviate bothersome tinnitus. If you suffer from tinnitus, it's worth exploring the Widex Moment for this feature.
Click here if you need to find a provider who fits Widex aids.
My Top Over-the-Counter (OTC) Hearing Aid Selection
OTC hearing aids, a fresh arrival in 2023, provide the opportunity to purchase a hearing aid without the need for an audiologist's consultation. Learn more about the difference between professional hearing aids and OTC devices here.
Lexie B2 Hearing Aids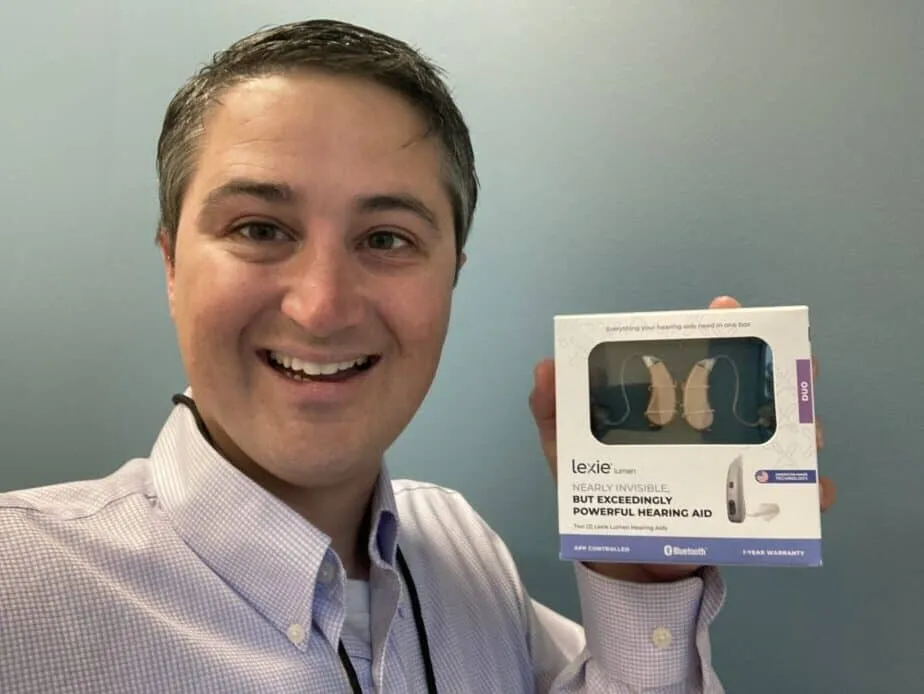 If you're seeking an efficient and accessible remedy to your hearing challenges, the Lexie B2 hearing aids might just be what you need. Engineered by Bose, these OTC hearing aids are laden with benefits designed to augment your auditory experience.
With Lexie B2 hearing aids, bid farewell to hearing difficulties and embrace a renewed auditory experience. These self-fitting, rechargeable, receiver-in-canal hearing aids aim to deliver top-notch sound quality. As FDA-regulated devices, you can be confident of their safety and effectiveness.
Key advantages of Lexie B2 hearing aids include:
Customizability: The Lexie app allows for adjustments to the settings to cater to your specific needs. It is the first self-tuning mobile app clinically validated to provide audiologist-grade customization for individuals aged 18 and above with mild-to-moderate hearing loss.
Remote Care and Support: The Lexie Experts™ offer remote assistance 7 days a week, addressing your questions or adjustment needs.
Digital and Bluetooth-enabled: Unlike many online hearing aids, Lexie hearing aids offer clear, high-quality sound via digital and Bluetooth-enabled technologies.
Lexie Rewards: On purchasing Lexie hearing aids, you gain access to Lexie Rewards, a rewards program designed to guide and support you through the first 45 days of wearing your new hearing aids. Earn points redeemable for purchases within the Lexie app.
In summary, if you're in search of an OTC hearing aid that's both effective and convenient, the Lexie B2 hearing aids are an excellent choice. Read my Full Review here. With their plethora of benefits, you can relish the joy of normal hearing again and take your first step towards enhancing your overall quality of life.