Hearing loss can have a significant impact on an individual's quality of life, making it difficult to communicate with loved ones and engage in everyday activities. Fortunately, hearing aids can help individuals with hearing loss regain their ability to hear and participate in the world around them.
One new option on the market is the Sony CRE-C10 over-the-counter hearing aid, developed in partnership with WS audiology. Let me introduce you to the Sony CRE-C10, a self-programmable device that has caused a buzz in the hearing aid world!
As a professional audiologist, I would like to share my thoughts on the Sony CRE-C10 over-the-counter hearing aids. These new self-programmable hearing aids have impressed me and I believe they are a good option for individuals with perceived mild to moderate hearing loss.
Appearance and Performance
Now, let's talk about appearance, because let's be honest, we all want to look good, even when we're rocking hearing aids. The Sony CRE-C10 has a striking resemblance to the Signa Silk prescription hearing aids. The invisible in-the-ear device is great for those who do not want anyone to see the hearing aids. On a whole in the industry, the invisible devices are much less popular than the RIC style but still have a 10% market share.
These little guys are perfect for those with mild to moderate hearing loss, but here's the catch: you gotta program them right. That's right, you have the power to make them work perfectly for you! So don't go blaming the device if you don't set it up correctly.
To set them up you connect them to an app on your phone. You put the hearing aids in your ear canals and the app has you take a hearing test. It is important to take the hearing profile check in a quiet environment, or else the data is useless. After the hearing profile check, the Sony Hearing Control app uses the information to program the hearing aids with first fit settings.
After which, you can make further adjustments and changes. It is worth noting that the self-programming adjustments in the app are basic, with options to increase or decrease the overall loudness and adjust the sound balance. If the hearing test indicates asymmetrical hearing loss, it is recommended to see an audiologist for a comprehensive evaluation.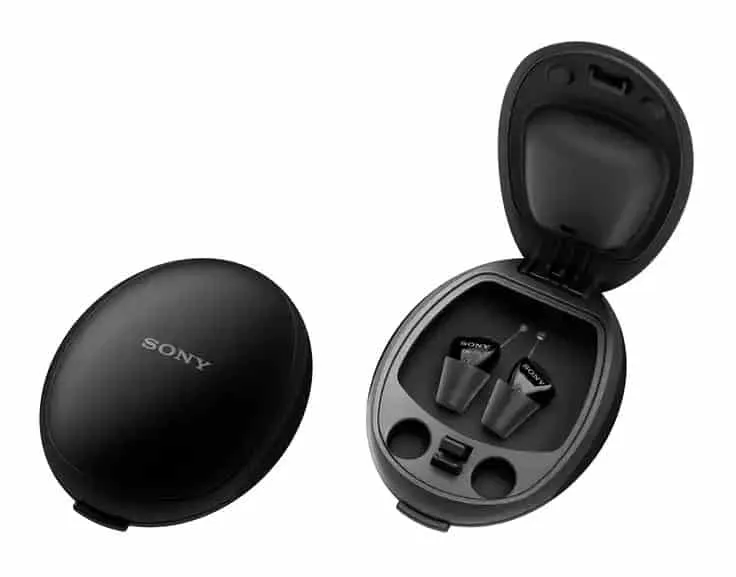 Fit and Features
The Sony CRE-C10 hearing aids are an instant-fit design that can be nearly invisible depending on the size of your ear canal. They come with a click sleeve instead of a traditional dome and include several sizes for an instant fit. It is worth noting that finger dexterity issues can make it difficult to remove and replace the click sleeves, but they are compatible with Signia click domes.
To be honest, they do not fit in my canals all that well. I have quite small ear canals and can not get them in deep at all. They are not comfortable for me personally and I had a lot of occlusion. But if you have larger ear canals, this likely will not be an issue.
The hearing aids use standard size 10 zinc air hearing aid batteries. They advertise 70 hours of use per battery. See here how to make the batteries last as long as possible.
These hearing aids are susceptible to moisture damage and earwax buildup, so it is recommended to use a dry aid kit to preserve their longevity. Also will have to clean the come/click sleeve and change wax traps monthly.
No Bluetooth
The Sony CRE-C10 hearing aids are not Bluetooth compatible but can be controlled with a smartphone using the Sony Hearing Control app. The app emits high-frequency chirps to communicate with the hearing aids for programming adjustments and a hearing test. The Sony Hearing Control app is compatible with Apple and Android devices as long as they have iOS 13.0 or higher and Android 10 or higher.
| Pros | Cons |
| --- | --- |
| Instant fit design | I had occlusion (expected with this style of hearing aid) |
| Nearly invisible depending on ear size | Click sleeves may be difficult to remove and replace |
| Comes with a one-year warranty | Limited customization options for tech-savvy individuals |
| Includes several sizes for an instant fit | Not Bluetooth compatible |
| Small size 10 disposable battery with up to 70 hours of battery life | Programming adjustments in the app are basic |
| From a major hearing aid company with years of manufacturing experience | More expensive than many other OTC devices |
The Sony CRE-C10 over-the-counter hearing aids are a solid choice for those in need of a little extra amplification. And let's face it, who doesn't want to hear their friends and family better? With the Sony Hearing Control app, you can adjust your settings with ease and get the most out of your hearing experience. So, what are you waiting for? Go get yourself a pair or find another product that will get you hearing better!