At Starkey, they believe in putting the needs of their users first. That's why they're a top provider of cutting-edge hearing aids that are designed with you in mind. They're well equipped to create sophisticated, feature-packed devices, but they understand that some people may have difficulties with vision, dexterity, or cognitive abilities.
That's why they've made it a priority to offer straightforward, user-friendly hearing aids that cater to those who need a more simple solution. Take their rechargeable custom hearing aid, for instance. It provides advanced technology in a package that's easy to use. So, whether you're tech-savvy or looking for a more straightforward option, Starkey has the perfect hearing aid for you!
Rechargeable battery with up to 42 hours of use and quick recharging time
Streamlined design with just a few buttons and advanced noise reduction technology
Easy-to-use wax traps for maintaining sound quality
Voice prompts in plain English for battery and other indicator tones
Simple to get on and off the charger each night
Gone are the days of struggling with confusing and complicated hearing aids. With so many options available, choosing the right one can still be a challenge. But, fear not, because Starkey has come to the rescue with their rechargeable custom hearing aid. This device stands out for its simple and intuitive design, making it a breeze to use, even for those who may find other hearing aids overwhelming. Say goodbye to too many buttons and settings, and hello to a hearing aid that puts you, the user, first.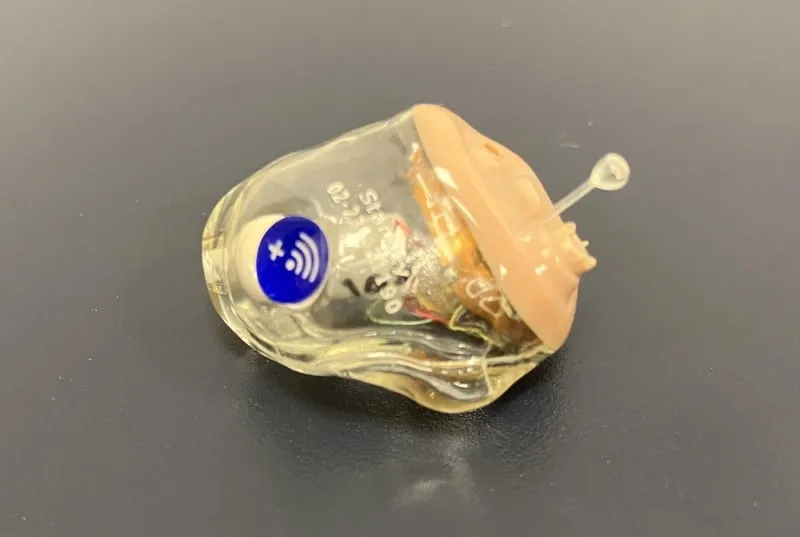 The Starkey rechargeable custom hearing aid is designed with user-friendliness in mind. No more struggling with complicated buttons and settings, this hearing aid offers a clean, straightforward design that's a breeze to use. And with its rechargeable battery, you'll never have to worry about constantly replacing batteries or running out of power. Simply charge it up for a few hours and enjoy up to 24 hours of uninterrupted use. This hearing aid takes the hassle out of improving your hearing. The best YET is that it has an auto on/off feature!
The Starkey rechargeable custom hearing aid also has a streamlined design with just a few buttons, so it's easy to adjust the settings and control the volume, but I would tell your audiologist to turn off the batteries and leave the hearing aid on full autopilot. The hearing aid also features advanced noise reduction technology, which helps to reduce background noise and improve speech clarity.
User-Friendly Maintenance
The Starkey rechargeable custom hearing aid is equipped with some remarkable features that set it apart. One of the most notable of these is its user-friendly wax traps. Keeping your hearing aids clean and debris-free is critical to preserving sound quality, and with the easy-to-access wax traps on this hearing aid, cleaning up has never been simpler.
Another impressive feature is the voice prompts and indicator tones that are delivered in plain English. This means you'll always be in the loop about what's going on with your hearing aid, from battery life to other important updates. No more guessing or trying to decipher cryptic beeps. With the Starkey rechargeable custom hearing aid, everything is clear and straightforward.
Easy to Charge, Easy to Insert into Ear
The Starkey Evolv Ai Rechargeable custom ITE hearing aid is incredibly easy to get on and off the charger each night. Simply place the hearing aids on the charger and they'll be ready to go in just a few hours. This makes it easy to keep your hearing aids charged and ready to use, even if you're not tech-savvy.
Right Choice for Those With Any Impairment
These are the hearing aids for arthritic hands, hand tremors, dexterity issues, cognitive difficulties, dementia, and Alzheimer's.
If ease of use and user-friendliness are your top priorities in a hearing aid, look no further than the Starkey Evolv Ai rechargeable custom ITE hearing aid.
If you would like to get check-out prices of Starkey Hearing Aids and be set up with an audiology appointment check out ZipHearing.