Sennheiser Acquires Consumer Division of Sonova Group
In March 2022, Sennheiser, renowned for its high-quality audio products, entered the hearing technology industry through an acquisition of the consumer division of the Sonova Group, owner of popular hearing aid brands Phonak and Unitron. This move raised eyebrows in the industry, as many wondered how this transition would impact the hearing tech landscape as it was likely to bring OTC hearing aids.
The Revolution in Hearing Aids: The FDA's Green Light
Just a few months later, after five years of consultations and an immense amount of groundwork, the FDA granted the go-ahead for Over-The-Counter (OTC) hearing aids. This pivotal decision opened up a world of possibilities for companies like Sennheiser to make a significant impact in the hearing tech industry.
Big Reveal: Sennheiser's Over-The-Counter Hearing Aids
Fast forward to the present, Sennheiser and Sonova unveiled their first OTC hearing aids just last month, making it a momentous day for the 30 million people in the US dealing with hearing loss. The announcement featured two devices under the Sennheiser brand: The All-Day Clear and All-Day Clear Slim. Both devices are designed to make managing hearing loss more accessible and straightforward.
"All-Day Clear comes at a time when US consumers are seeking technology that can instantly improve their lives," says Clara Beck, Sennheiser Hearing Category Director. "The over-the-counter legislation allows us to bridge a sizeable gap in the hearing devices market by enhancing ready-to-wear solutions with our extensive acoustics and speech enhancement expertise."  

Clara Beck, Sennheiser Hearing Category Director.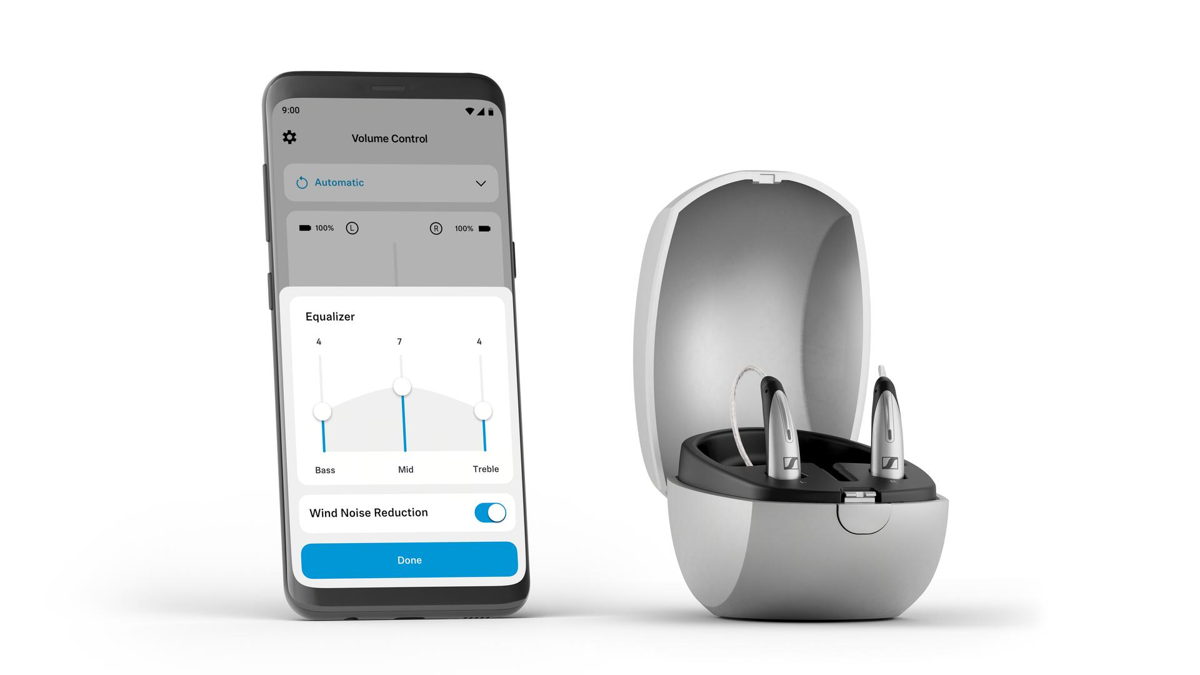 Ready-to-wear care  
From the initial unboxing to that first blissful conversation, All-Day Clear's thoughtful features put the wearer's needs first. All-Day Clear and All-Day Clear Slim are two uniquely sleek designs with matching benefits focused on speech intelligibility and a host of practical accessories. Powered by Sonova technology—a leading hearing care company—the Sennheiser OTC hearing devices deliver clear, vibrant sound and feature intelligent scene detection that monitors the person's environment for seamless optimization of dialogue. Wearers can expect up to 16 hours of class-leading hearing performance and featherlight comfort from the compact rechargeable devices. Each comes with a set of hearing devices, a charging case and accessory kit, while the Slim wear style also includes an equally compact carrying case. On both Android and Apple mobile devices, each style can be set up and customized in less than five minutes, guided by the intuitive All-Day Clear app. Each is packed with additional capabilities such as Bluetooth® music and podcast streaming from your mobile devices, a personalized sound profile, wind noise management and much more.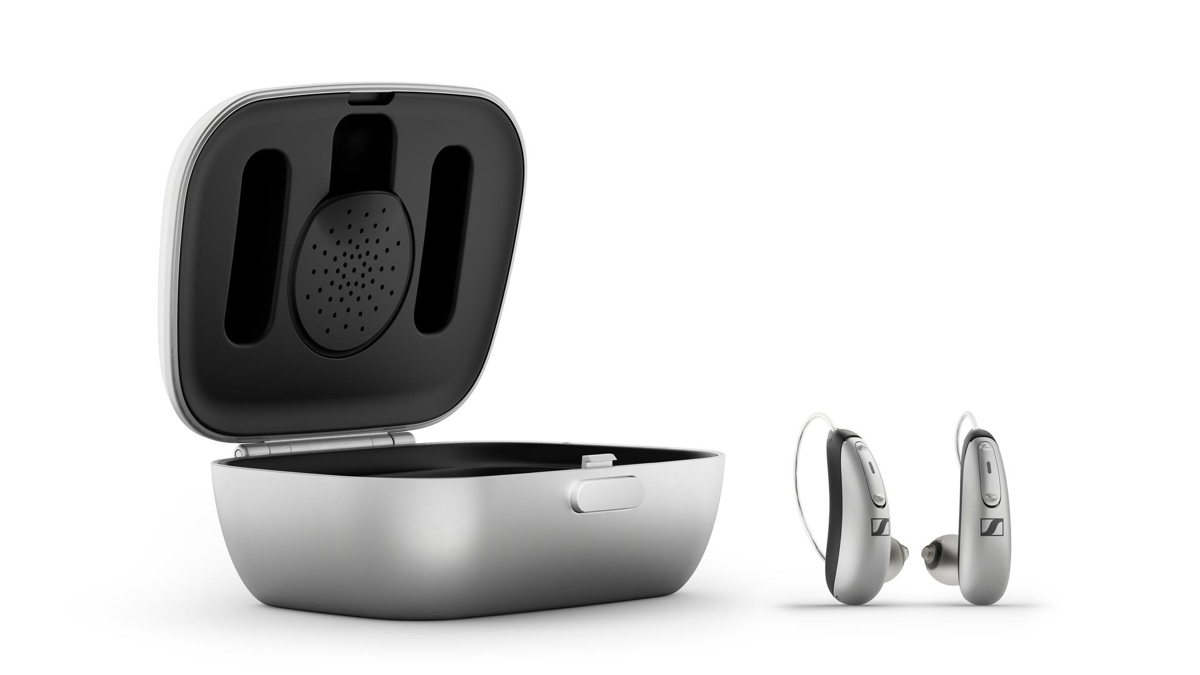 Take it home tonight 
The All-Day Clear experience is friction-free; consumers can research, purchase, and customize Sennheiser's hearing aids from the comfort of their smartphone. And for those seeking the simplicity of an over-the-counter purchase and the peace of mind that a local hearing professional can provide, consumers have an option to purchase an In-Clinic Care Package. Furthermore, every All-Day Clear purchase from Sennheiser-hearing.com comes with a reassuring 45-day risk-free trial. 
Jill Goosen, Sennheiser All-Day Clear Product Manager adds: "We made the entire ownership path effortless — especially for those who feel they're not ready for the prescription approach. Still, for those DIY consumers that may want the safety net of a hearing care professional at a later date, or to purchase their hearing aids from a hearing care professional, All-Day Clear provides the best of both worlds." 
Pricing and availability 
All-Day Clear and All-Day Clear Slim will be available starting from mid-July at an MSRP of $1,399.95 and $1,499.95, respectively. The free All-Day Clear App will be made available for download on the App Store (iOS) and Google Play Store (Android) at that time.
My Initial Thoughts on the Sennheiser OTC Hearing Aids Announcement
As an audiologist and advocate for improved hearing health, I've always had a soft spot for Phonak. They are a reputable hearing aid manufacturer and share a parent company with Sennheiser. It's reassuring to see that Sennheiser is working with an organization steeped in decades of experience in the hearing aid industry.
Nevertheless, while the announcement is exciting, it's important to remember that I am yet to physically assess these new devices. Actual user experience and performance often diverge from what's presented in product launches and press releases. I am eager to get my hands on both the All-Day Clear and All-Day Clear Slim to understand their capabilities fully.
As for the pricing, my initial reaction is that it seems quite steep. The cost of the new Sennheiser OTC hearing aids is similar to that of some professionally fit hearing aids, which may raise eyebrows considering the value and services that come with professional fitting. That being said, pricing is only one piece of the puzzle, and it's equally essential to weigh the technological advantages, user experience, and convenience factors that these new Sennheiser devices may offer and how they compare to their competitors.
That said, my overall sentiment toward this product launch is positive. Despite any initial reservations, I am optimistic that Sennheiser's entrance into the OTC hearing aid market will contribute to the evolution and improvement of hearing health technology. This pioneering product could pave the way for numerous iterations in the future, further enhancing the auditory experience for those with hearing loss.
Indeed, the success of the All-Day Clear and All-Day Clear Slim would be a big win not just for Sennheiser, but also for millions of individuals who stand to benefit from accessible, high-quality hearing aids. Time will tell, and I look forward to witnessing what unfolds next in this exciting chapter of hearing health technology.