Hearing aid feedback or whistling can be a frustrating issue for many users. Luckily, there are measures that can be taken both at home and with the assistance of an audiologist to alleviate this problem. Here are the steps you can take, grouped into two main categories:
Measures You Can Take At Home To Stop The Whistle
Check for Correct Insertion of The Hearing Aid in the Ear Canal
Incorrectly fitting your hearing aid in your ear can lead to feedback. Therefore, it's essential to ensure that the device is securely and snugly fitted within your ear. If it's too loose, try to reposition it. The correct placement of your hearing aid can significantly reduce the chances of feedback.
I usually say it is best to pull the aid completely out of your ear. Restart the hearing aid by placing the aid into your charger or by opening the battery door and then turning the hearing aid on again and putting it back on into your ear.
Adjust The Volume Down To Stop The Feedback
If your hearing aid volume is set too high, it can cause feedback. Try gradually reducing the volume to see if the whistling stops. However, ensure that you don't reduce the volume so much that you're unable to hear properly. Balancing the volume can be key to avoiding feedback.
Using MyPhonak App for Fine-Tuning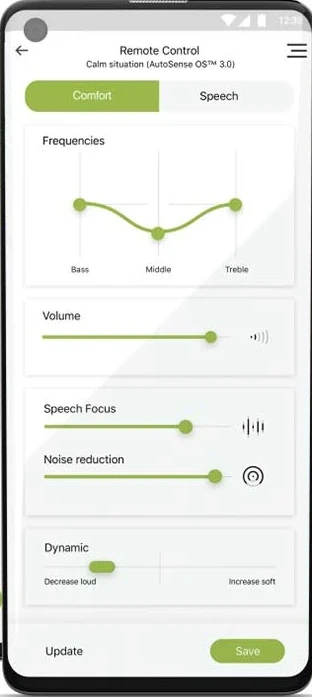 The MyPhonak app offers an equalizer function that allows you to adjust specific frequency ranges. Feedback often occurs in the high-pitched or treble range. If you're experiencing high-pitched feedback, try reducing the high/treble sounds using the app.
You may also want to adjust the mid frequencies slightly as feedback can sometimes occur in this range. However, feedback is unlikely to be in the low frequencies. By leveraging the MyPhonak app, you can fine-tune your hearing aid settings to reduce feedback.
Clean Your Hearing Aid
Earwax buildup on your hearing aid can lead to feedback. Regular cleaning of your device can prevent this. You should clean the microphone and speaker areas of your hearing aid regularly using a dry, soft cloth or special cleaning tools designed for hearing aids.
Check for Damage
Damage to your hearing aid can also cause feedback. Take some time to examine your hearing aid for any visible signs of damage. If you notice any, contact your audiologist or the hearing aid provider for repairs or replacement. Regular maintenance and checks can help keep your hearing aid in optimal condition and prevent feedback.
Measures Your Audiologist Can Take To Stop The Feedback
If the feedback persists despite your efforts at home, it's time to consult your audiologist. There are several things they can do to help:
Check for Cerumen (Earwax)
An audiologist can examine your ears for excessive earwax, which can often cause feedback. If necessary, they can professionally remove the earwax. This is often one of the first steps an audiologist will take when addressing feedback issues.
Run a Feedback Calibration
By connecting the hearing aids to the Phonak software, your audiologist can run a new feedback calibration. This test identifies the exact frequencies at which feedback occurs, so the hearing aid knows to avoid amplifying sounds in that range past the point that will create feedback.
Adjust the Feedback Management System
Your audiologist can adjust the aggressiveness of the feedback management system in your Phonak hearing aids. This adjustment can help reduce or eliminate feedback, improving your overall hearing aid experience.
Consider Changing Dome Size or Venting
The audiologist may consider changing the size of the dome or adjusting the venting on the earmold of the hearing aid. These adjustments can help reduce feedback but retain the amplification necessary, and are often made in consultation with the user to ensure comfort.
| Action | Solution |
| --- | --- |
| Check for Cerumen | Professional earwax removal |
| Run Feedback Calibration | Identification and avoidance of feedback frequencies |
| Adjust Feedback Management System | Reduces or eliminates feedback |
| Change Dome Size or Venting | Customized adjustments to reduce feedback |
Remember, feedback should not be a problem with any hearing aid purchased in the last few years as feedback management systems have significantly improved. If you continue to experience issues, please seek adjustments from your audiologist.